Gold mining asset of the company - Atygay deposit:
In April 2019, the Report was protected with a feasibility study of constant conditions and reserves calculation for the Atygay field.
Estimation of reserves and estimation of forecast resources were carried out in the Micromine program.
Gold reserves were put on the State balance of the Republic of Kazakhstan, which amounted to more than 15 tons in categories C1 + C2,
resources in category P1 amounted to more than 30 tons.
The reliability of P1 resources in the Atigay field is high. The calculations were performed using the data obtained on the results of excavation of mines and drilling of deep core wells.
The exploration network in assessing the resources of P1 was 400-200m (the distance between the profiles).
Ore zones / bodies are crossed along the entire length of the deposit (the length of the deposit is about 13 km).

In 2020 - 23gg. geological exploration will be continued to track mineralization on the flanks and transfer part of the P1 resources to reserves.
Volumetric wireframe model of ore bodies of the Atygay deposit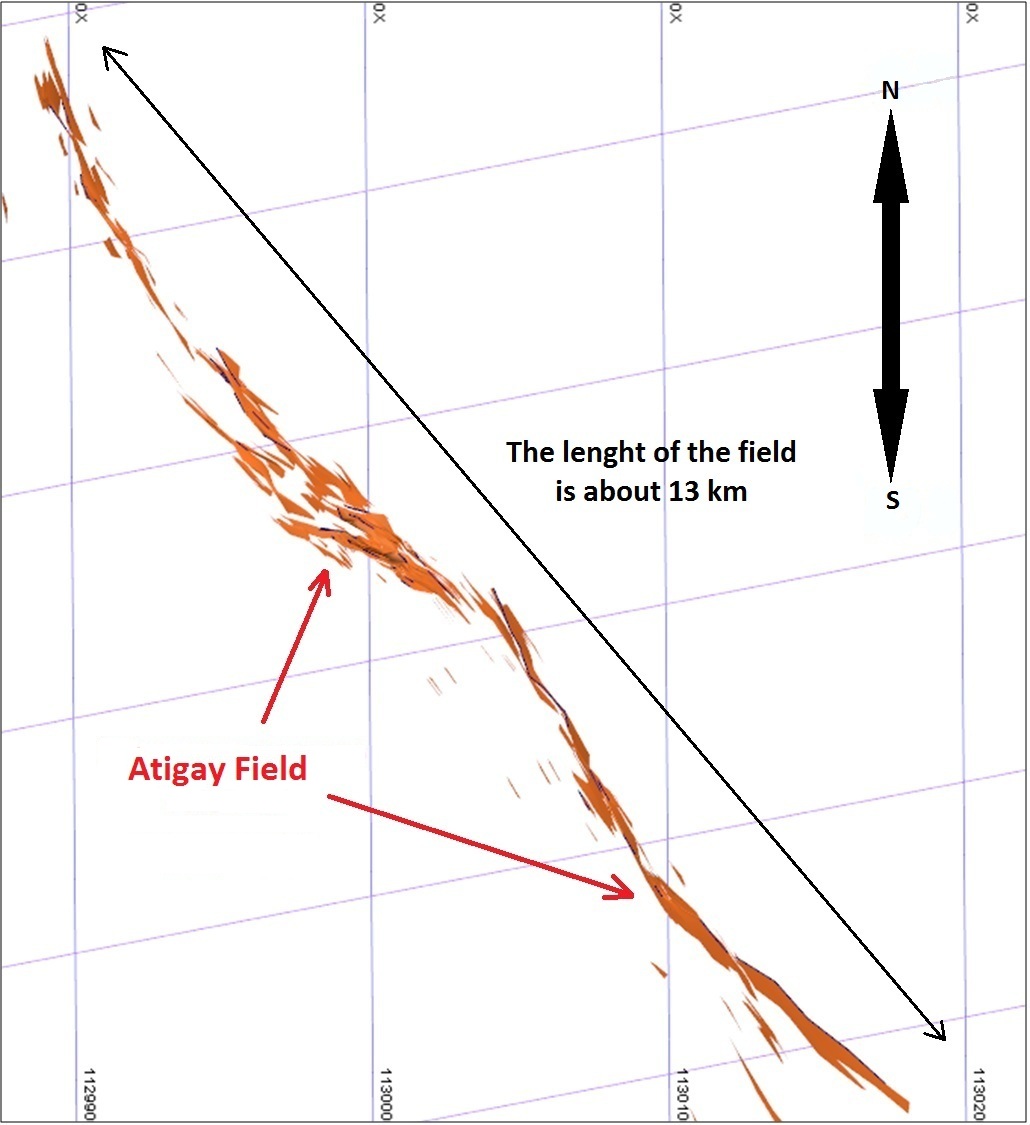 Geological structure of the Atigay Field:
The Atygay deposit, located within the Sineshihansk intrusion, belongs to the hydrothermal genetic type of the gold-sulfide-quartz (mid-depth) ore formation. The ore bodies of the Atygay deposit are located in weathering crusts and are represented by crushing, silicification, limonization zones. Gold ore mineralization in weathering crusts is localized in silicification zones and in mineralized zones. Gold ore mineralization in primary ores is localized in metasomatically altered rocks (berezites, quartz veins, veins) with poor sulfide mineralization. In 2016-2018, technological studies of primary ores were performed. According to the research results, it was determined that primary ores belong to the low-sulfide gold-quartz type, to the class of easily cyanized, which means the possibility of processing the entire volume of ore using a single technology. On the deep horizons of the field, drilling of a few hundred hundred core core wells was completed. As a result, gold ore mineralization at a depth of more than 250 m was confirmed.
Atygay deposit. Schematic geological section (fragment)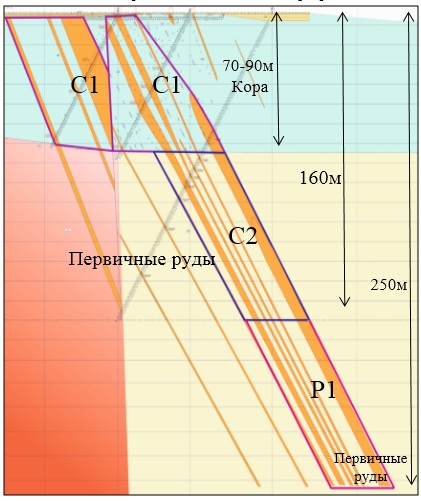 Approved reserves in the State Reserves Committee of the Republic of Kazakhstan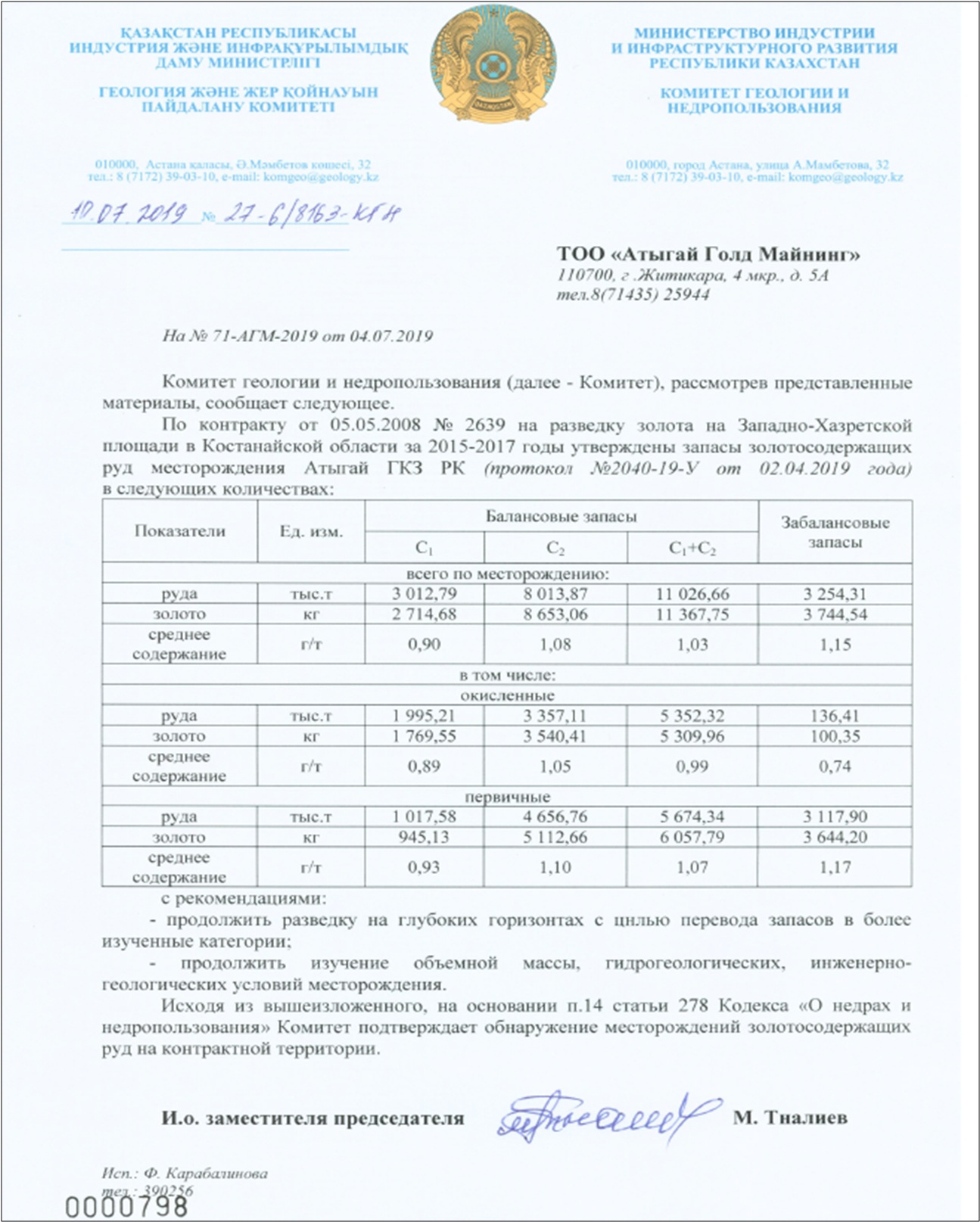 Exploration work in the field continues.